THE MORE TO LOOK THE MORE TO KNOW
Credits:
Backlit print of analogue aerial archival photographs (1940-2003) on custom made light boxes 40x40cm and series of prints on footspeed high white smooth paper 40x40cm.
About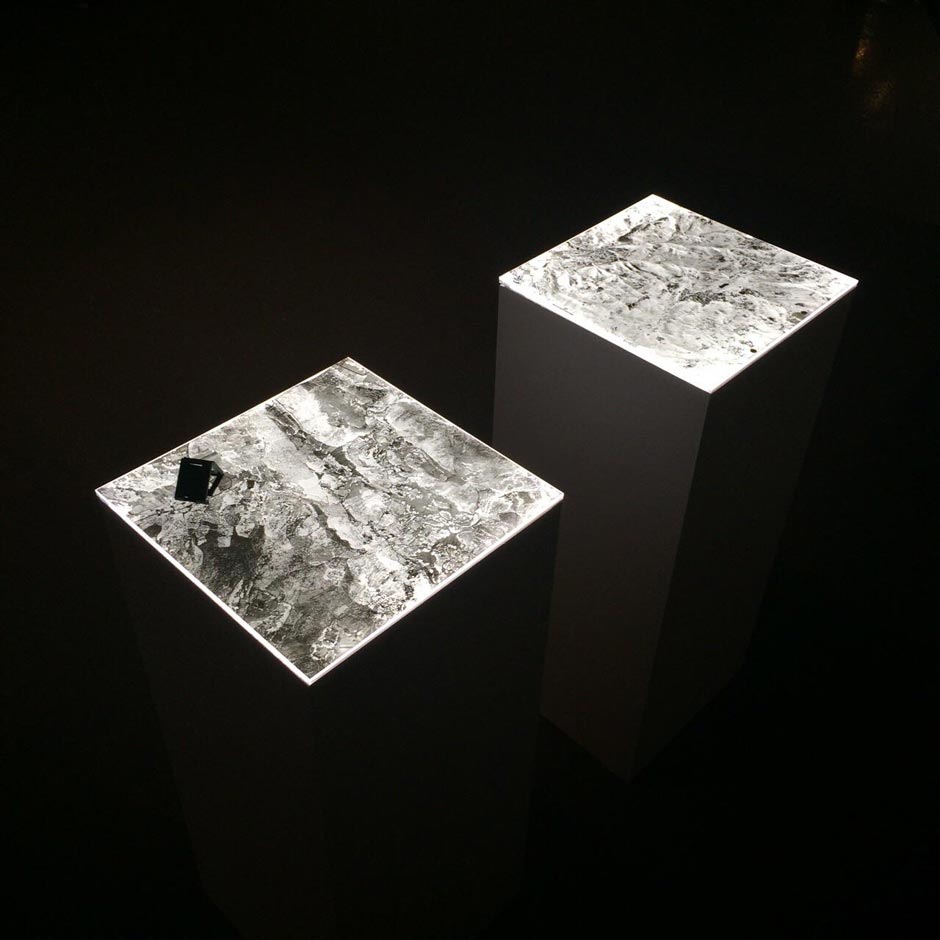 The more to look the more to know consists of images of the negatives of analogue aerial and satellite photographs taken of rural areas. These photographs are to be found in the National Collection of Aerial Photography in Edinburgh, the National Archives and Records Administration in Washington, and the Instituto Geografico Militare in Florence. The photographs Bonizzi has documented in this suite consist of analogue aerialimages taken between 1942 and 2003, in the particular village of Filignano in Molise, Italy. This work is linked to Bonizzi's short film The Cartographers in that the subjects of that film have a relationship to the rural, mountainous region—whether that relation is lived or imagined.
The meta-aesthetic of Bonizzi's work selection of photographic aerial images brings to the surface the difficulties with seeing from a distance. Viewers are given images of mountain ranges that look like variegated, planar topography sprinkled with white powder, and rivers that seem like veins in the landscape. The work asks the simple but profound questions: when do things become real for us; when do we know what we know?
Through her practice Bonizzi conveys how people are understood or misunderstood because her characters often lie within intersecting and overlapping  historical and geographic contexts. Her work exposes how much we use geography and images of physical landscapes to abstract ourselves from ourselves. The more to look, the more to know actually shows that we can become mere dots and snaking lines on a terrain we cannot fully grasp.
Text by Seph Rodney